FREE Product Testing at Home – How to Get FREE Products to Test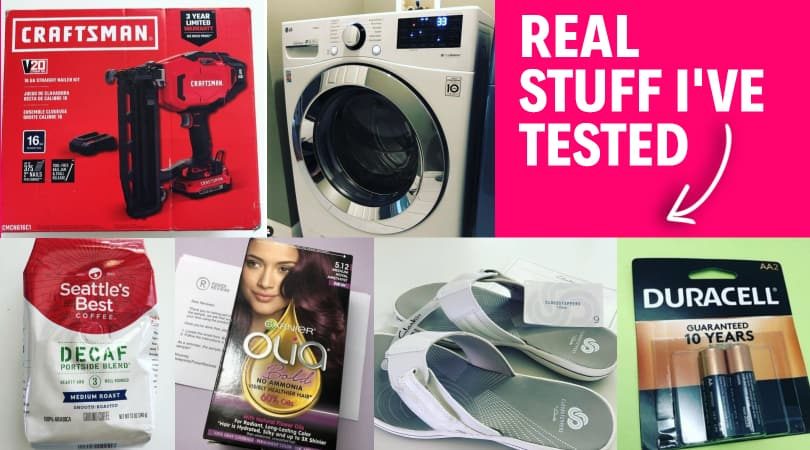 Get Real FREE Products To Test at Home!
I have got SO MANY awesome products through product testing.  I mean like really expensive stuff, totally FREE.  I am totally addicted.  When people come to my house and hear that I have a free stuff / product testing blog they are like okay, that's nice.  But when I start showing them all the stuff I got totally free they are like HOW are you doing this?!
For example, I just got a $899 washing machine totally FREE for review.  I'm not joking….it even has Alexa LOL.  Zero dollars delivered and installed! ????  Look at my instagram photo if you want to see it. Cool right?
Okay, I know what your thinking…. HOW?  And… you only got it because you have a blog.  But no… anyone can get this stuff.  You do need to usually write a review or give feedback of some form but it usually takes just a few minutes to do.
How to Get FREE Products to Test
The first thing I would suggest you do is get on my email list.  I send out an email every single day with the best free stuff and products to test.  No spam, no surveys or anything like that.  You can go HERE and enter your email and you will get my emails once a day with the latest stuff.
If you don't want to get any email, you can also check my site daily.  Just go HERE to the homepage anytime to see what's new.  You can also browse the product testing category if you don't want to see everything else mixed in.
Each post will tell you what is available for testing and how to sign up.  For instance, one of the more popular product testing panels is Nike, which I talk about here. For that one… you just have to fill out their applications for the stuff you'd like to test like clothes, or shoes.  Then they will either accept you, or deny you based on what they need at the moment.  (You can also apply again later if you get denied)
So each individual post will give you the details of the different product testing panels and all you need to do is follow the directions.  There are tons of different testing panels out there and I would encourage you to sign up for all the products that interest you.  You can test everything from baby gear, to makeup, to food, to even big stuff like washing machines like I got.
The more panels your a member of, and the more you keep checking back here for more stuff to apply for….. the more stuff you will get.
Quick List to get FREE Products to Test