This post may contain affiliate links that earn me a small commission, at no cost to you. As always, I only recommend links I personally use and love!

Get FREE Admission To SeaWorld, Busch Gardens or Sesame Place Parks For Military Personnel!
Sea World is proud to salute the men and women of our armed forces and their families.  They are giving up to 4 free tickets per military member!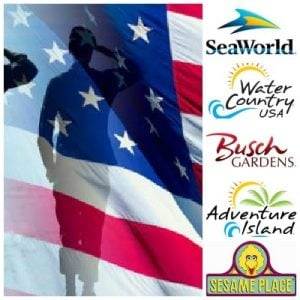 Any active duty, activated or drilling reservist, or National Guardsman is entitled to a free one time admission at either SeaWorld®, Busch Gardens®, Adventure Island®, Water Country USA®, or Sesame Place® for military personnel and as many as three direct dependents.  The ticket(s) must be obtained online by June 9, 2019, and redeemed at an eligible park for visitation by July 15, 2019. The Veteran must be present with their 3 guests upon redemption at the park for visitation.
To get the tickets, click this link and then choose the park you would like to visit. To qualify for this promotion, you must be registered with ID.me.